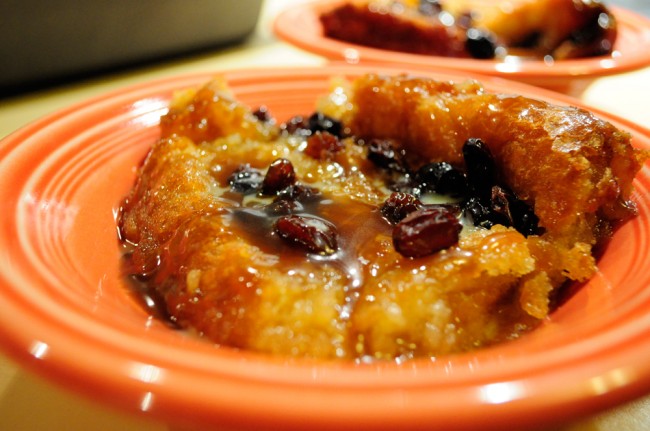 Saint Patrick's Disney Side!
By Sarah Dingman | March 16, 2014 | Disney at Home
With Saint Patrick's Day right around the corner, and my need to create new things, I began scouring my brain for some way to incorporate our Disney side with some festive yumminess! I thought back to our fun late night dinner at Raglan Road in Downtown Disney and its strong Irish roots during our first trip to Disney World together. Raglan Road is known for its famous Ger's Bread and Butter Pudding which I decided I was going to tackle! I've included my adapted recipe below for you to try at home!
For dinner I prepared a simple fresh pesto over green pasta! Even though we're Irish, doing the whole traditional Irish cuisine didn't feel right so we went this route. I threw in some veggies and some smoked turkey sausage and served with a big green salad for good measure!
What are you having for Saint Patrick's Day dinner? Share your recipes below! And try my version of Ger's Bread and Butter Pudding for dessert and let me know how you like it!
Ger's Bread and Butter Pudding (adapted from All Ears' recipe from Raglan Road)
Vanilla Cream Anglaise:
Ingredients:
3 egg yolks
1 cup sugar
1/2 teaspoon vanilla extract
2 cups heavy cream
Method of Preparation: 
1. Heat up the cream and the vanilla on the stove until it almost starts to boil. Meanwhile combine the egg yolks and sugar in a bowl and whisk well.
2. When the cream reaches the almost boiling point, turn off and remove the pot from the burner. Temper the yolks, by ladling a small amount (about 1/4 cup) of cream to the bowl and mixing well. Then add the yolk sugar mixure to the cream, whisk well so that it does not curdle. Place over low heat for 2 minutes whisking until it starts to thicken. Strain and allow to cool at room temperature. (Post edit: I didn't strain and the world didn't end and the sauce was delicious. Sometimes I don't follow the rules. There, I said it.)
The "Bread and Butter" part:
Ingredients:
1/2 loaf Texas toast (about six slices)
1/2 pound butter softened
1 cup granulated sugar
2 tablespoons brown sugar
Crème anglaise (see below) for dipping
1/2 cup raisins soaked in water (and a dribble of imitation rum flavoring, optional)
Method of Preparation: 
1. Combine the sugar and butter, spread evenly on the bread slices to make sandwiches, stack together and cut off the crust. (post edit: again, I'm a rule breaker. I left on the crust and I'm glad I did! I also used the remainder of the butter mixture to butter the outsides of the bread too.)
2. Cut the "sandwiches" in ½ on an angle (from corner to corner)
3. Butter the inside of 8 oven proof cups or preferred baking dish (I used a 9×9 square pan). One by one dip the "sandwiches" in the anglaise and place in the baking dish, layer the bread and a sprinkling of soaked raisins as you go until done. (post edit: there was only one layer for me since I put them all in the square pan so I just put the raisins on top. Also pour more anglaise on top! Just enough to cover the bottom of the pan and fill in the holes-trust me on this.)
4. Bake covered at 375 degrees for 35 minutes until it rises a bit. Remove the cover and bake an extra 10 minutes until slightly brown. (post edit: this was the exact perfect amount of time.)
5. Carefully remove from the oven and allow to cool slightly. Serve warm or at room temperature with anglaise and caramel sauce (see below).
Caramel Sauce:
Ingredients: 
1 stick butter, chilled
1 cup plus 2 tablespoons brown sugar
1/2 cup heavy cream
Method of Preparation: 
Combine the sugar and butter in pot and cook over a medium heat. Whisk well to combine. When sugar is melted and it starts to boil, turn off the stove, remove from heat, and whisk in the cream to combine. Allow to cool to room temperature.